How to Order the Right T-Shirt Quantity for Your Team
Everyone loves t-shirts. They are comfortable, easy to wear, and so versatile that you can wear them for various outings. The versatility and attractiveness of t-shirts make them one of the best options for team uniforms and promotional gifts.
However, bulk ordering tees in the right size for a group can be tricky because body shape and size vary between individuals. If you've been having trouble ordering t-shirts for your team, you are in the right place to learn how to solve your problem with a t-shirt order size calculator.
Why Should I Calculate T-Shirt Sizing for Group Orders?
Height, shoulder width, and collar size typically vary between individuals, and brands offer t-shirts in various sizes to match each body type. If ordering t-shirts for your team or another group, assuming everyone is the same size or picking random sizes for the whole team can lead to waste.
Instead of guessing shirt sizes, you need a system for identifying the right number of each shirt size to order for your team. With a t-shirt size calculator, you can determine how many pieces of each t-shirt size to buy, leading to benefits like:
Have Enough of Each Size
Calculating sizes lowers the risk of running out of popular sizes. If you have enough of each size, all your team members can get a shirt that fits their body type. For example, if you order too many extra small shirts and not enough medium-size shirts, you will run out of medium shirts and have small shirts that your team can't use.
Avoid Having a Ton of Extra T-Shirts
Ordering too many undersized or oversized tees will leave you with shirts that no one wants. Unless your supplier accepts to take the extra shirts back, the unwanted tees will end up as waste taking up valuable space in your storage area.
Save Money
Calculating how many pieces of each size you need will help you order the perfect number of t-shirts on your first try. Ordering t-shirts that you cannot use amounts to a waste of money. Even if you can return the excess wrong-sized shirts and get replacements, the shipping expenses and delay will still amount to wasted funds.
T-Shirt Order Size Calculator
You can calculate shirt size by height and weight, and t-shirts typically come in sizes ranging from extra small (XS) to extra-extra-large (2XL). You can even find sizes as big as 5XL. However, if the shirts are for people you've never met, you can't measure them or ask for their sizes before placing your order.
Instead of ordering one size for everyone, order for each size by using a t-shirt size calculator to calculate how many of each size to buy. Most size calculators estimate how many of each size to order based on the number of each t-shirt size sold in the U.S.
The chart below represents the current distribution of t-shirts purchased by size in the U.S.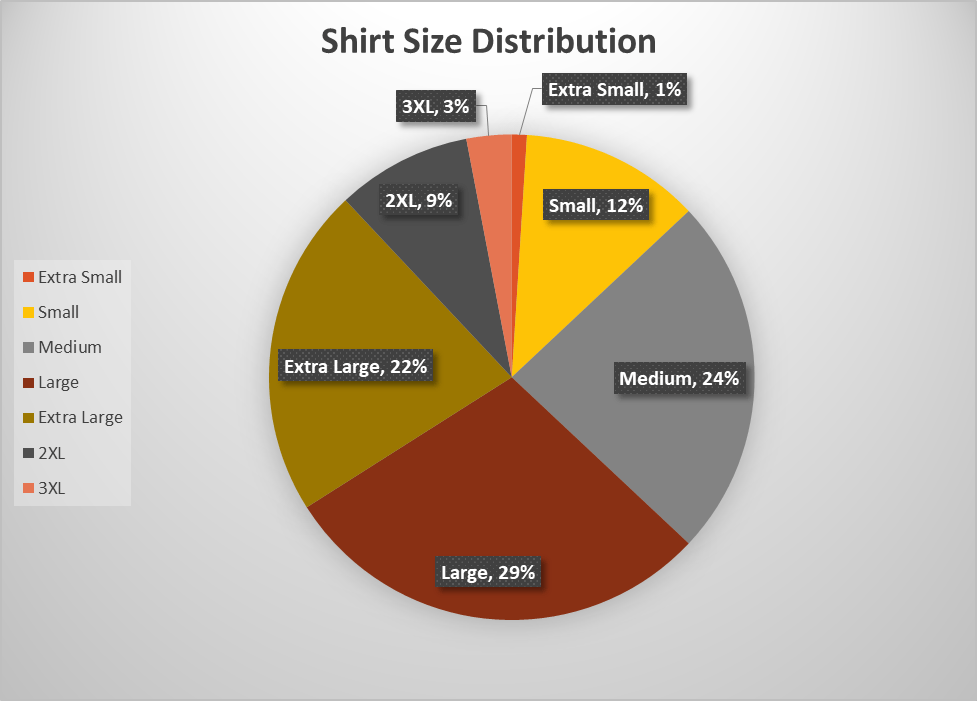 Going by the above chart, you should split t-shirt orders into:
10% small
25% medium
30% large
25% extra-large
10% 2XL
Using the above ratio, an order for 100 shirts will consist of 10 small, 20 medium, 30 large, 30 XL, and 10 2XL shirts. We left out extra small and 3XL because they make up a tiny percentage of sizes typically ordered. However, if you believe you may need these sizes, make them less than 4% of your order (2% XS and 2% 3XL).
Tips for Ordering the Correct T-Shirt Quantity
Besides using a t-shirt order size calculator, you can use these tips to order the right number of t-shirt sizes:
Think About the Type of Fabric
The fabric of a shirt affects its sizing. For instance, you should buy a larger size if the shirt fabric is likely to shrink. Also, if the fabric is thick or coarse, buy a size that provides a loose fit to prevent chafing and other discomforts. Below are common t-shirt fabrics and how they affect size:
Cotton Shirts
Cotton is a popular t-shirt fabric because it is breathable, soft, and comfortable to wear in various weather conditions. However, 100% cotton shirts are prone to shrinkage if washed incorrectly. For this reason, go one size higher when ordering pure cotton tees. You can skip ordering a larger size if you choose a preshrunk cotton shirt or one blended with a shrink-proof fabric.
Polyester
Polyester does not shrink as much as cotton, and the fabric retains its shape after several washes. Since the fabric does not significantly shrink, you do not have to order larger sizes to compensate for possible shrinkage.
Ask What Type of Fit Your Team Wants
If possible, ask your teammates for their preferred t-shirt size and fit before ordering t-shirts for them. Knowing each person's preferred size and fit will enable you to order the perfect tee for each team member. A t-shirt that fits perfectly will have shoulder seams that sit right at the top of the shoulder bones and a flat neckline that does not gape in the front.
Our Favorite Custom T-Shirts for Group Orders
Do you need help picking the right customizable t-shirts for bulk orders? Here are your best options:
Gildan 5000 T-Shirt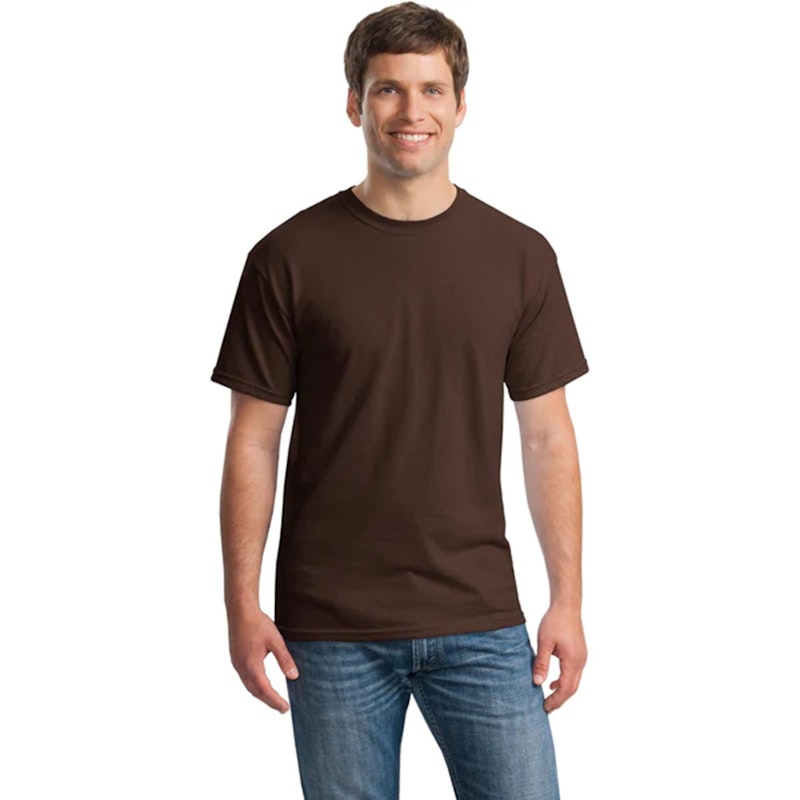 The Gildan 5000 T-Shirt is one of the best products for customized volunteer uniforms. Its heavy cotton fabric is breathable and soft to keep your volunteers comfortable while they work. Also, the shirt runs true to size, and you can get it in sizes ranging from small to 2XL.
Champion T425 T-Shirt
The Champion T425 is a 6-ounce t-shirt made from a mostly cotton fabric blend. The shirt is durable and comfortable, and you can wear it on its own or beneath a jacket. Several colors are available, including red, green, orange, and purple, and its affordability makes the shirt ideal for dressing your team to impress on a budget.
District DM1170L T-Shirt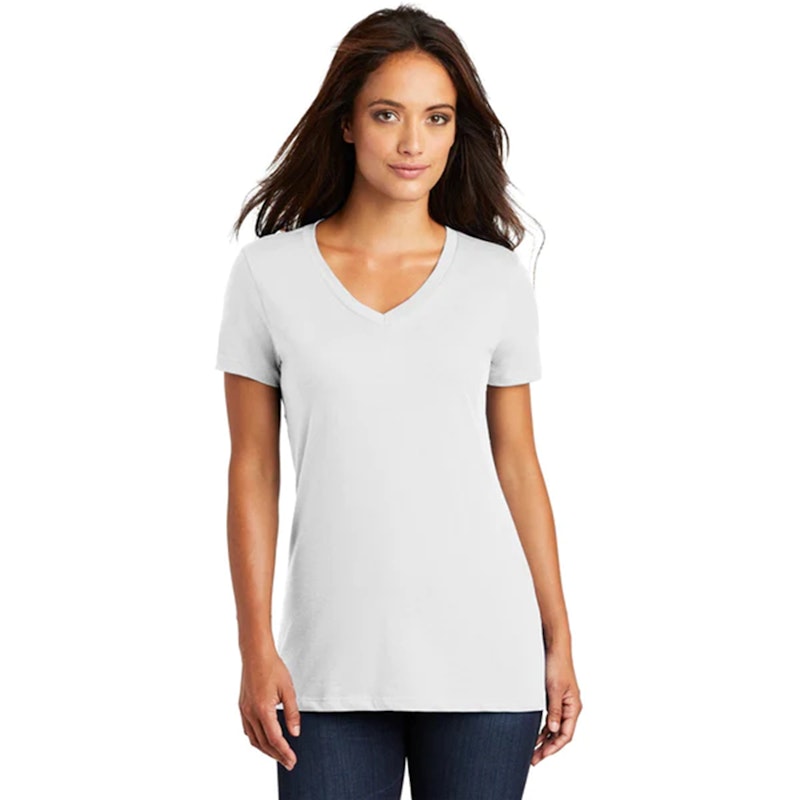 The District DM1170L is a v-neck tee built for ladies. Its form-fitting design shows off a lady's curves, and the soft ring-spun combed cotton fabric is delightful on the skin. Sizes ranging from extra-small to 4XL are available, and you can get the shirt in attractive shades of grey, pink, and black.
Order Customizable T-Shirts in the Right Quantity with Thread Logic!
Once you know the t-shirt sizes you need, visit us at Thread Logic. We have over two decades of experience providing high-quality custom-embroidered t-shirts to businesses and individuals. Our wide selection of quality tees ensures you won't have trouble finding t-shirts that fit your style, comfort, and budget requirements.
You can order as many customized tees as you want in various sizes, and the more shirts you buy, the higher the discount you can get. Browse our t-shirt collection and contact us to place an order or learn more about our custom embroidery services.