Our Best Selling Carhartt Apparel
When you need durable workwear, it's hard to beat Carhartt. This iconic American brand specializes in producing heavy-duty working clothes, from caps to vests to jackets. Beyond workwear, they've continued to be a popular brand that everyone from hunters to streetwear enthusiasts love. 
Whether you're a long-time Carhartt lover or are simply exploring the best apparel for your team, we've got some fresh ideas to help you upgrade the appearance and comfort of your workforce. Let's take a look at our best-selling Carhartt apparel.
Why Carhartt?
Founded 1899, Carhartt got its start outfitting railroad workers with overalls. Since then, it's catapulted into a trusted manufacturer of resilient workwear. But the benefits don't stop there. Carhartt has many qualities to enjoy, such as:
Being size-friendly: Carhartt is size-inclusive, offering a wide range of sizes for both men's and women's clothing.
Timeless design: Carhartt isn't chasing fashion trends that disappear within a month. Instead, they offer classic designs that can be enjoyed for decades to come.
Quality apparel: From innovative technology to premium fabrics, Carhartt invests in the quality of its clothing. They focus on comfort, flexibility and durability, making it ideal for heavy and long-term use.
Carhartt Rugged Professional Series Cap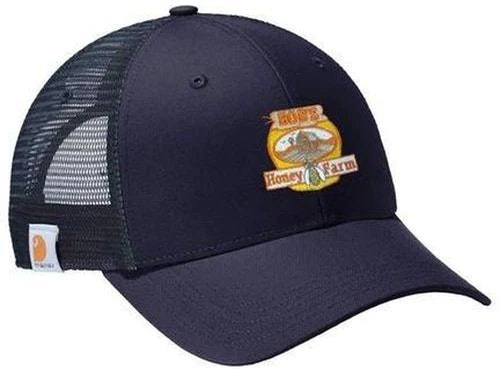 Need to shield your eyes from the sun and also allow your head to breathe? Then you'll love the Carhartt Rugged Professional Series Cap. This smart-looking hat is crafted with a mix of cotton, polyester and spandex for the perfect amount of stretch and security. 
The lightweight mesh back helps keep your head cool during sweltering summer days, making it perfect for your hardworking team.
Carhartt Midweight Hooded Sweatshirt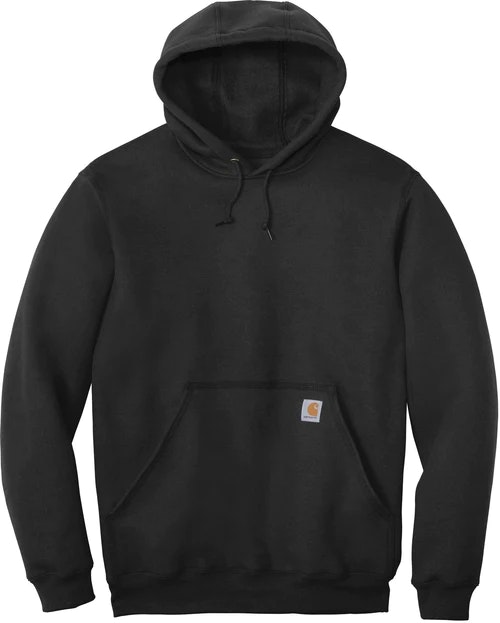 When you're working outdoors in chilly weather, it's critical to stay warm. The Carhartt Midweight Hooded Sweatshirt provides warmth and mobility on any job site. Its comfort comes from the fabric blend of polyester and cotton, and it's perfect for layering over garments and under jackets. 
It also has a sizeable front pocket to store lightweight tools, gloves or other essentials. With sizes ranging from small to 4XL, you'll have no problem outfitting your whole team. 
Carhartt Watch Cap 2.0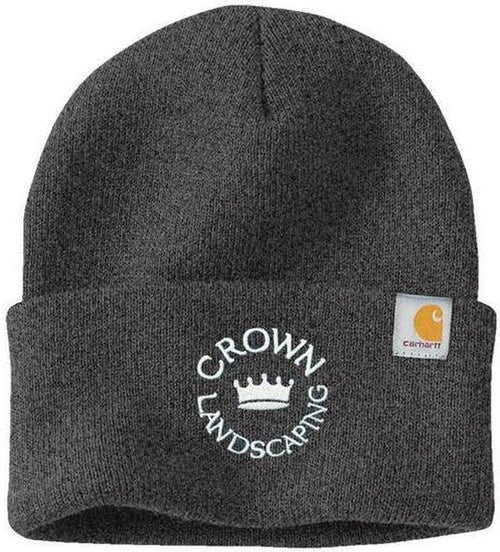 From mighty winds to winter snow, the Carhartt Watch Cap 2.0 will keep your head toasty all day long. This textured cap has a premium feel with an acrylic rib knit, so you know it'll stay put during the most intense work projects. The stretchable material is equally soft, providing extreme comfort for any type of outdoor activity.
Carhartt Quilted-Flannel-Lined Duck Active Jacket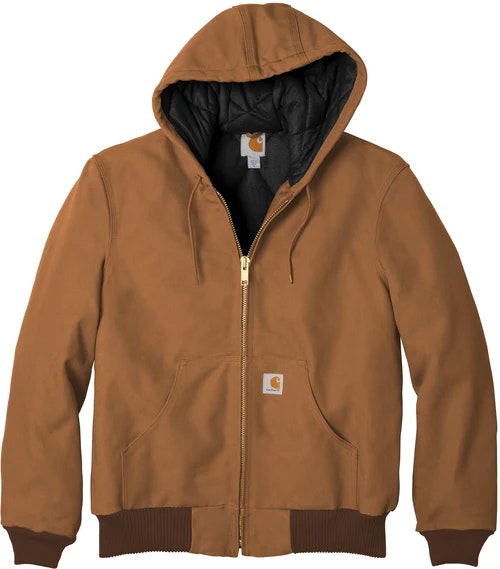 Whether you're cleaning out the garage or going ice fishing, the Carhartt Quilted-Flannel-Lined Duck Active Jacket will keep you protected from the elements. The loose fit is ideal for layering in frigid temperatures. It features quilted-flannel lining in the body and quilted-nylon lining in the sleeves.
This highly functional jacket offers maximum utility with hand pockets, interior pockets, a locker loop and water-repellant and wind-resistant fabric. From the rugged design to the sturdy construction, this jacket will become a favorite for years to come.
Carhartt Workwear Pocket Short Sleeve T-Shirt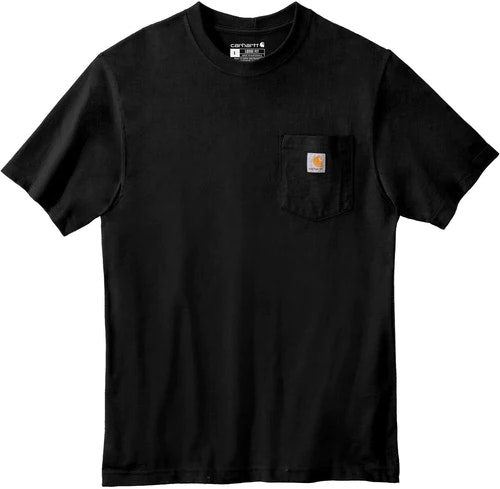 When you need a t-shirt that conveys professionalism, look no further than the Carhartt Workwear Pocket Short Sleeve T-Shirt. This top-of-the-line shirt is crafted with a cotton-jersey knit and has a front pocket on the chest for your promotional pens. Resilient and comfortable, you can embroider your company logo on the front to boost your brand's visibility.  
Carhartt Crowley Soft Shell Jacket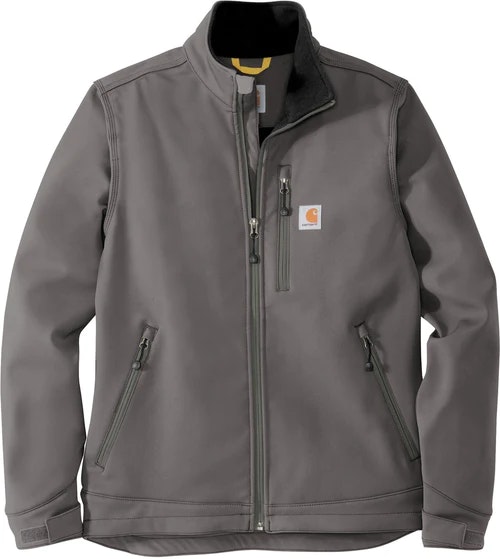 There are many things to love about the Carhartt Crowley Soft Shell Jacket. It has a sporty and sophisticated look while still being highly functional. The shell is constructed with nylon and spandex material, providing easy mobility.
It also contains a water-resistant film insert and polyester fleece backing to keep you protected against winds and light rain. You'll love the three zippered pockets to keep your valuables secure no matter where you go.
Carhartt Force Ridgefield Solid Short Sleeve Shirt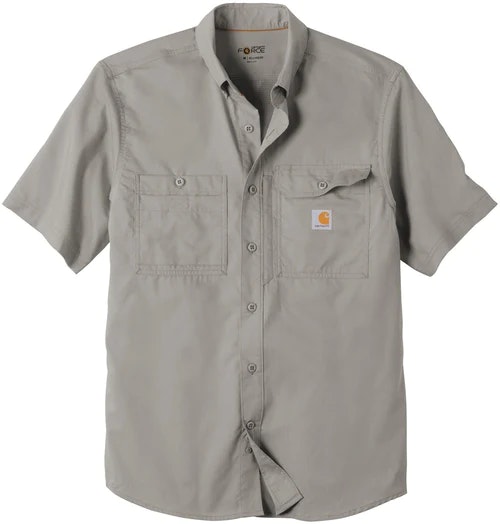 Raise the bar for workwear with the Carhartt Force Ridgefield Solid Short Sleeve Shirt. Due to this shirt's professional design and sturdy construction, it's equally ideal for intensive work and customer-facing interaction. The durable material is made from breathable polyester and cotton sheeting, and features moisture-wicking FastDry technology. 
Carhartt Thermal-Lined Duck Active Jacket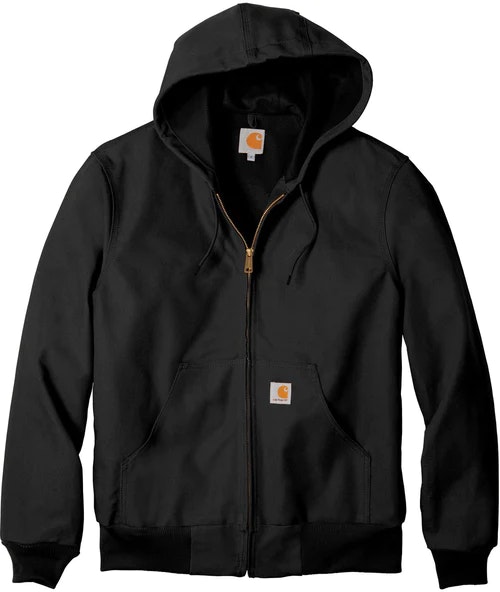 The Carhartt Thermal-Lined Duck Active Jacket provides a sleek, streamlined look that your team will be proud to wear. Made from 100% ring-spun cotton duck canvas, it also has a polyester thermal lining to keep you comfortable. Designed to withstand the elements, this jacket is also both water and wind-resistant.
Carhartt Duck Vest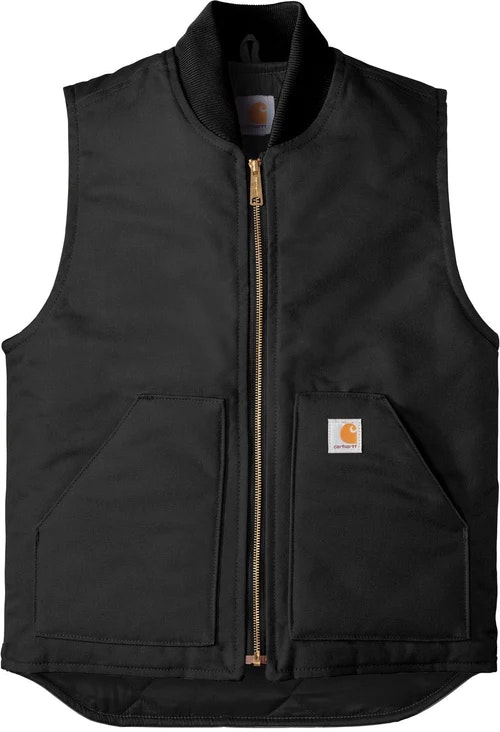 As the weather cools, the Carhartt Duck Vest allows you to layer up with ease. Created with 100% ring-spun cotton duck canvas, this vest repels water and resists blustery winds. You'll keep your core warm due to its nylon lining and arctic-weight polyester insulation.
Upgrade Your Workwear Today With Customizable Apparel
For your team to perform at their best, they need to be comfortable. At Thread Logic, we can help you find the perfect workwear for your company's needs. Plus, all of our apparel can be customized with your logo, so you can further your company's visibility. 
Have questions? Want more information about custom orders? Send us a message or call us at 800-347-1612 today to speak with one of our helpful team members.