Custom Embroidered Vests for Fall Layering in the Office
The fall season can be pretty, especially when the leaves change color. It can also get chilly enough to require layering with a jacket before taking the trip from your home to the office. Do you need help finding comfortable and easy-to-wear fall jackets? If so, you are in the right place because we are about to share the best custom-embroidered vests for staying warm indoors and outdoors during fall.
The Rules of Vest Layering
Before delving into our favorite fall layering vests, let's look at the three basic rules of vest layering during fall.
Start with a well-fitted long-sleeve tee or thermal shirt. This base layer shirt should be breathable, lightweight, and moisture-wicking to prevent getting too hot and excessive sweating.
Over the base layer, wear a versatile mid-layer, such as a flannel shirt or sweater.
Wear your vest as your third and final layer. The vest should aesthetically complement your mid-layer and be a comfortable fit. Without the vest, the mid-layer should be enough to keep you warm while indoors. If there's no indoor heating, the third layer or vest should insulate and keep you cozy indoors and outdoors.
Custom Embroidered Vests for Fall Layering
Here are our favorite custom embroidered vests for layering during the fall season.
Port Authority Value Fleece Vest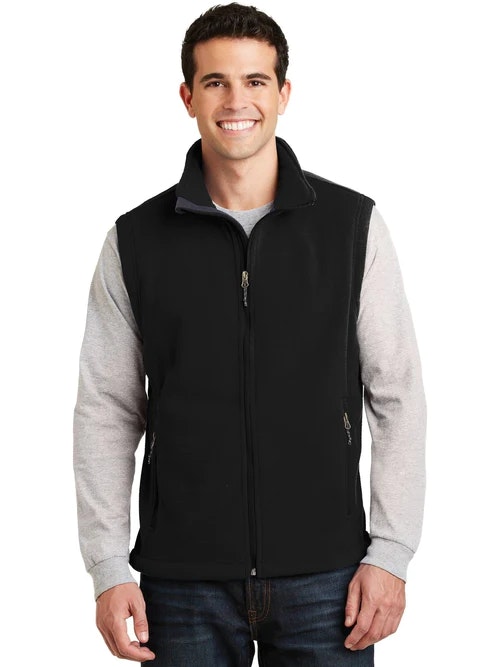 The Port Authority Value Fleece Vest is a midweight vest thick enough to protect you against chilly winds or cozy in a cold indoor space. The vest's high collar and chin guard will protect your neck and insulate you. Also, the vest has functional front zippered pockets where you can store items or hide your hands to keep them warm.
The North Face Ridgewall Soft Shell Vest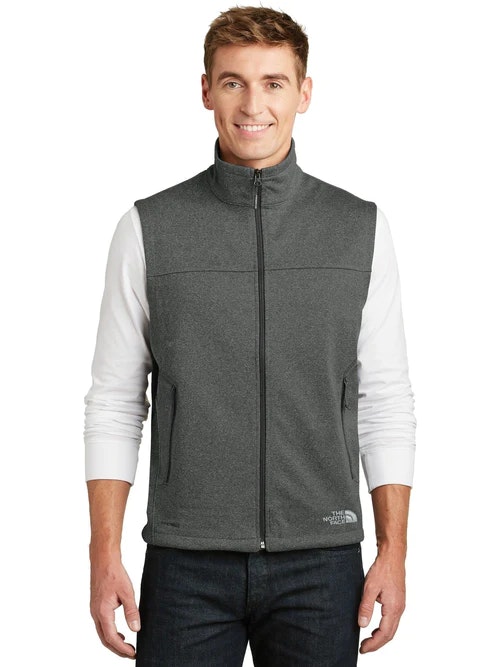 The North Face Ridgewall Soft Shell Vest is a smart-looking vest available in black or grey. The high-quality jacket offers impressive insulation during the fall season thanks to its wind-resistant and water-repellant polyester fabric. Depending on how much warmth you need, you can wear the vest zipped up or open.
Port Authority Microfleece Vest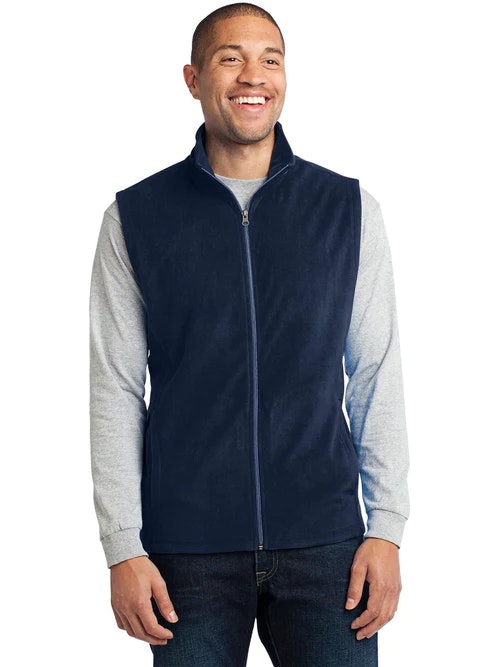 The Port Authority Microfleece Vest is a lightweight vest suitable for indoor and outdoor use. Besides offering warmth, this vest is pleasant to wear thanks to its extra soft microfleece fabric. Since it's affordable and durable, the vest is perfect for dressing your team in matching custom-embroidered fall apparel.
Carhartt Duck Vest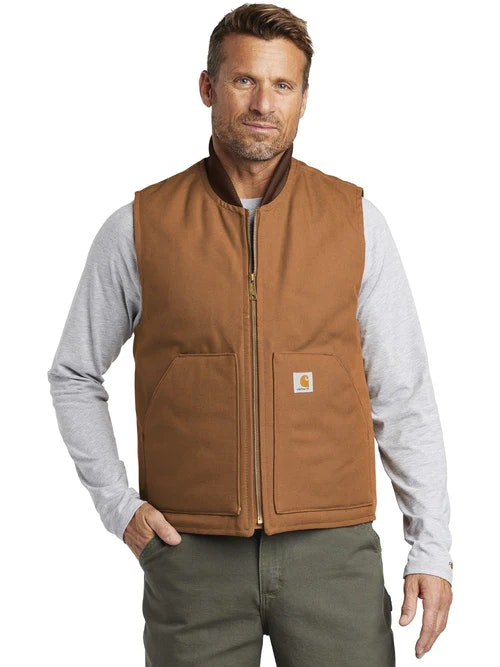 If the fall season in your area is frosty and wet, the Carhartt Duck Vest is an excellent investment. The top-quality vest features a 100% ring-spun cotton duck canvas fabric. The thick, heavy-duty fabric backed by arctic-weight polyester insulation will shield you against drizzles and prevent cold winds from reaching your skin. Besides being highly functional, the Carhartt Duck Vest is attractive and available in black or brown.
Charles River Pacific Heathered Vest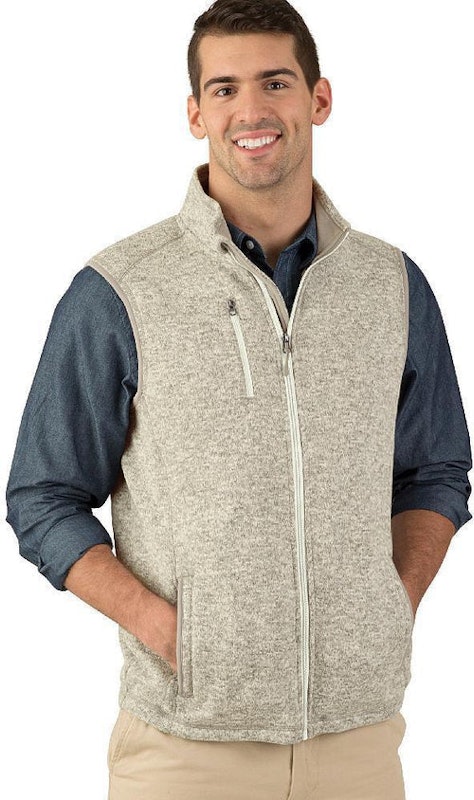 The Charles River Pacific Heathered Vest is a highly stylish fall vest with unique colors that will turn heads. You can elevate the vest's aesthetics even further by custom embroidering your brand logo or name on its chest.
Besides being an aesthetic pleaser, this product is a top-notch fall layering vest. Its stand-up collar ensures your sensitive neck isn't exposed to cold winds, and the thick polyester sweater fleece fabric effectively insulates your torso. You also get front pockets for keeping your hands warm.
Keep Your Team Warm This Fall with Custom Embroidered Vests
Vests are excellent for staying warm in and out of the office during the fall season. At Thread Logic, you can shop for various fall vest styles, colors, and sizes at competitive prices, and we offer complimentary embroidery services.
Our ordering process is super simple. Just browse our store, select fall vests, upload and confirm your embroidery design, and pay. We'll take care of the rest, including shipping your order to your doorstep. Check out our selection of fall apparel today, or contact us to discuss your custom embroidered vest needs.