Embroidered Golf Jackets Your Team Can Rep On and Off the Green
Golfing with employees is a superb team-building experience. The golf course is an excellent place to catch some exercise and knock out a few informal business meetings. However, your team visiting the golf club without proper attire won't do your brand image any favors.
Dress your team to impress at the golf course by providing them with custom embroidered golf jackets. With the right golf jacket, dressing for the golf course becomes as simple as donning the jacket over your work shirt.
Where can you find quality golf jackets tastefully personalized to showcase your brand? Look no further than Thread Logic – the leading provider of custom embroidered apparel.
Does My Team Need a Custom Embroidered Golf Jacket?
Yes, and below are the reasons why:
Dress Code Compliance: Golf courses have general dress codes that specify collared shirts, slacks or golf shorts, and golf shoes for male players. Females can replace slacks or golf shorts with skirts. If circumstances, such as the weather, require it, golfers may wear appropriate outerwear, such as windbreakers or golf jackets. If you don't have a golf shirt, you can hide the fact under a golf jacket to comply with the dress code.
Brand Visibility: Custom embroidered golf apparel or logo turns the wearer into a walking billboard. Dressing your team in such jackets will promote your brand at the golf course and anywhere else your team wears the jacket.
Team Spirit: Matching attire, such as customized jackets, fosters a sense of belonging and camaraderie among team members. Unifying your team in this manner can enhance morale and collaboration within or outside your workplace.
Professional Appearance: Custom embroidered golf jackets will convey a sense of professionalism and unity at the golf course. Spectators and other golfers (all potential clients) who see your employees will see a polished and consistent team, creating a lasting and positive impression regarding your brand.
Our Top 5 Custom Embroidered Golf Jackets
Do you need help finding the perfect golf jacket for your team? We've simplified your search by listing our favorite custom-embroidered golf jackets.
NIKE Sport Cover-Up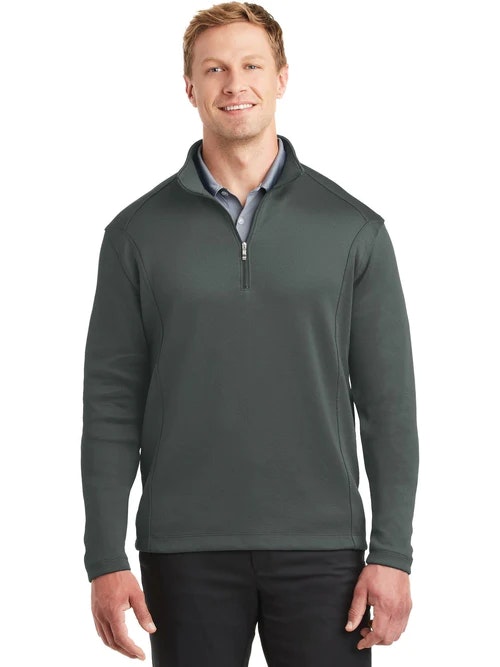 NIKE is a globally recognized brand worn by many of your favorite golfers. Dressing your team in customized NIKE golf apparel will send all the right signals to anyone they meet on or off the golf course. We especially recommend the NIKE Sport Cover-Up for its professional and stylish look that works on or off the golf course.
You can get the jacket in black, grey, or blue. The durable cotton/polyester fabric ensures the jacket will retain its look, comfort, and functionality for a long time.
Callaway ¼ Zip Water Repellent Pullover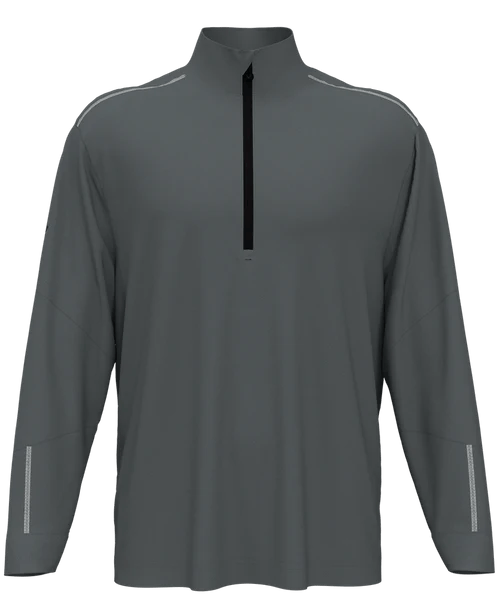 The Callaway ¼ Zip Water Repellent Pullover is an excellent golf jacket for several reasons. Firstly, it has a water-repellant finish that'll keep you dry if the weather turns wet while playing. Secondly, the jacket's UV repel technology protects you against harmful sun rays. And if you choose to play at night, the reflective tape across the shoulders will help keep your team visible.
The lightweight jacket is comfortable enough to wear indoors and outdoors, making it ideal for playing on the green or popping into the office.
NIKE Dri-Fit Element ½-Zip Cover-Up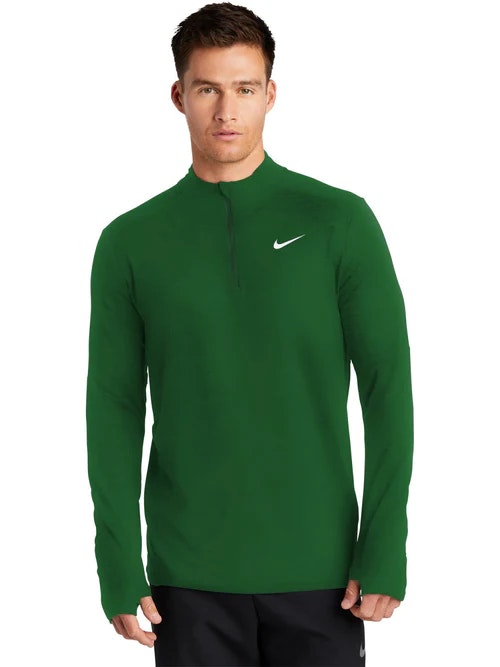 Another excellent NIKE golf jacket we recommend for use on or off the green is the NIKE Dri-FIT Element 1/2 Zip. The jacket's true-to-size design and slim fit means it wears beautifully when you choose your regular size. It ensures a full range of motion for the perfect swing with its stretchy polyester/spandex jersey Dri-FIT fabric.
Another benefit of the high-quality jacket is it dries quickly, so you don't have to worry about leaving the golf course for the office with unsightly sweat stains. You can get the jacket in various attractive shades of blue, grey, and black, and the durability keeps the jacket fade-resistant.
Greg Norman Windbreaker Stretch Jacket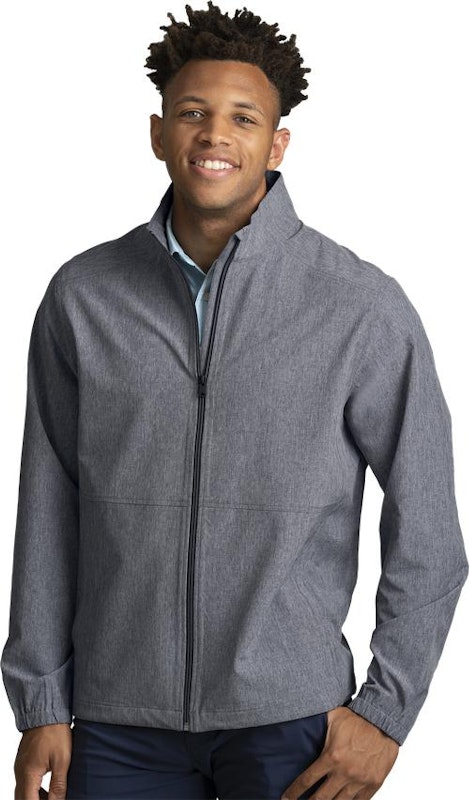 Unlike the other jackets on our list, the Greg Norman Windbreaker Stretch Jacket is full-zipped, meaning you can wear it open or closed. Male and female variants of the jacket are available, allowing you to get it for every member of your mixed team.
The soft fabric feels great on the skin, and the lovely aesthetics will catch the eye of any potential high-level clients your team meets. Since it's also water-repellant, your team won't have to worry about getting wet beneath the jacket if their golf outing turns rainy.
Adidas Heather Chevron Quarter-Zip Wind Pullover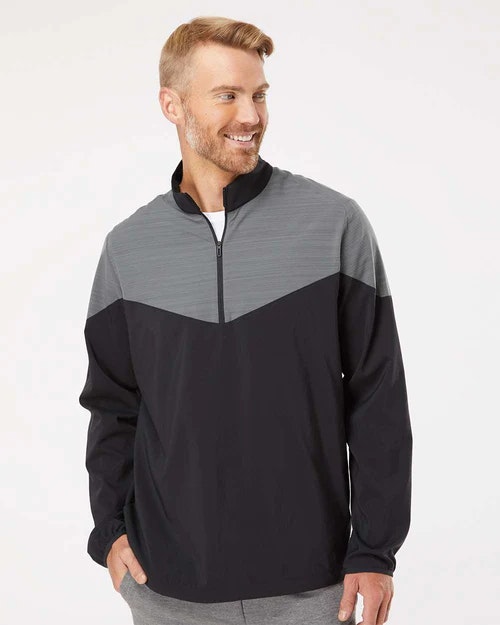 The Adidas Heather Chevron Quarter-Zip Wind Pullover is a lightweight jacket designed to help you eliminate discomfort while golfing. The jacket's smart look also gives you the option to drop by the office in it without looking out of place. Since it's lightweight, you'll barely feel the jacket on your back, and when you do feel it, you'll appreciate its soft texture.
Functional front pockets provide a convenient place to store golf balls and other items, and you can elevate the jacket's aesthetics by embroidering your brand logo on the chest. Also, if your brand prioritizes eco-friendliness, you'll appreciate that this jacket's fabric is 100% recycled polyester.
Invest in Custom Embroidered Golf Jackets That Will Impress On and Off the Green
Custom embroidered golf jackets help your team look their best on and off the green. It also keeps team members comfortable and compliant with dress codes while on the golf course.
At Thread Logic, you can find various styles, colors, and sizes of golf jackets at competitive prices, and we offer complimentary embroidery services. Our ordering process is super simple. Just browse our store, select golf jackets, upload and confirm your embroidery design, and pay. We'll take care of the rest, including shipping your order to your doorstep.
Contact us today to discuss your custom embroidered golf jacket needs or place an order.