Polyester is a highly versatile fabric used by several fashion and furniture brands. Is the material suitable for embroidery? Yes, it is! And we will explain why by revealing the features and uses of the fabric. By the end of our article, you should have no trouble deciding if polyester is the right choice for your next embroidery project.
What Is Polyester Fabric?
Polyester is a fabric made from synthetic or plant-based plastic polymers. While several polyester fabrics are available, the most commonly used ones have polyethylene terephthalate (PET) fibers. PET is a plastic made by combining ethylene glycol and terephthalic acid. Like other types of polyester fabric, PET polyester is durable and tightly woven.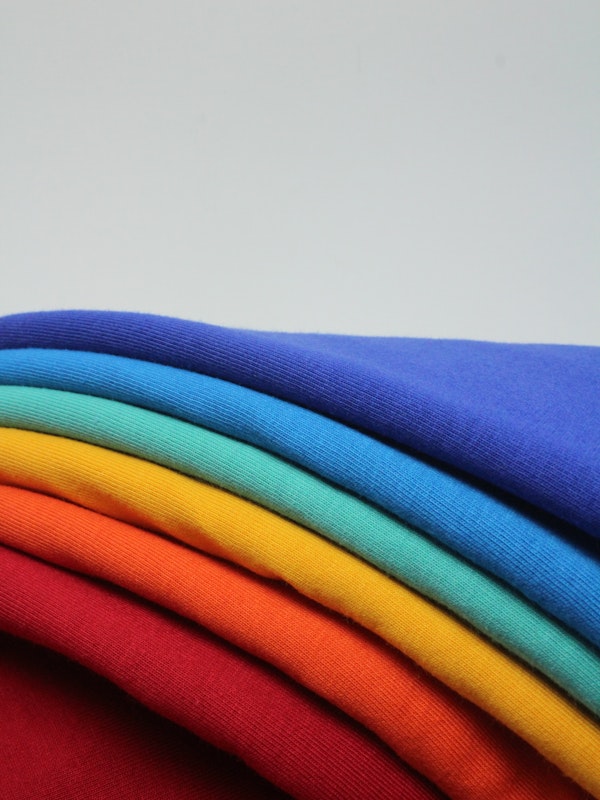 Polyester Fabric Characteristics
Below are the most notable polyester characteristics that distinguish it from other fabrics:
Resilient: Tightly woven fabrics like polyester are less prone to pilling and wear and tear. The material also retains color well and stretches to prevent ripping.
Wrinkle-Resistant: Polyester is wrinkle-resistant and capable of retaining its shape for many years.
Easy to Clean: Removing stains from the fabric is easy, and you can wash polyester in cold, warm, or hot water without damaging it. Also, compared to most natural textiles, polyester has low odor retention.
Water-Resistant: The fabric's dense weave minimizes water penetration, making it an excellent material for winter and outdoor clothing. Polyester also dries quickly.
Moisture-Wicking: Polyester clothes minimize sweating by wicking moisture off the skin. Since the fabric dries quickly, the clothing will not retain the sweat.
Breathability: The fabric keeps people cool by facilitating airflow over the skin.
How Is Polyester Made?
Manufacturing PET polyester involves mixing carboxylic acid (terephthalic acid) and alcohol (ethylene glycol) to create molten polyester. After the molten polyester cools, it is cut into small chips and melted.
The melted solution will pass through a spinneret (a funnel with tiny holes). As strands of the solution come out of the spinneret, they will undergo pressing and spinning to form threads. The threads then undergo weaving to form polyester yarn for clothing and other applications.
Types of Polyester Fabric
The correct answer to "what is polyester made of?" will depend on the type of polyester you are wearing. However, all types of polyester fabric are thermoplastic, tough, chemical-resistant, and hydrophobic.
How Many Types of Polyester Are There?
The four most widely used types of polyester include:
PET Polyester: Polyethylene Terephthalate (PET) or ethylene polyester is the most popular polyester fabric. The material is very stable. However, manufacturing PET polyester is environmentally unfriendly because it relies on petroleum-derived materials.
PCDT Polyester: PCDT and PET polyester have similar manufacturing processes. However, consumer feedback indicates that PCDT is more elastic and resilient than PET polyester. The superior elasticity of PCDT polyester makes it a better option for heavy-duty or industrial applications.
Plant-Based Polyester: Unlike PET and PCDT polyester, plant-based polyester fabrics come from natural sources. For example, plant-based polyester makers use organic ethylene sources like cane sugar instead of petroleum. While plant-based polyester is eco-friendly and biodegradable, it is less durable than its counterparts and costs more to make.
Blended Polyester: Fashion companies blend polyester with other fabrics to boost its breathability, texture, insulation, and more. Some of the fabrics most commonly blended with polyester include cotton, wool, and silk.
How Is It Used?
Polyester uses vary across different industries. Some of the most common uses of the material include:
Fashion: Fashion brands use polyester to make everything from dresses and suits to sportswear and athleisure clothing.
Coats and Parkas: Polyester's breathability and water resistance make it a popular choice for winter wear like coats and parkas. Some manufacturers also convert polyester into fleece to create better-insulated winter clothing.
Bedding: You can find sheets, comforters, and sleeping bags with polyester exteriors and fillings. Sleeping bags with a polyester outer layer are popular for comfort and dirt resistance.
Footwear: Athletic footwear makers use polyester to boost a shoe's breathability, durability, and water resistance.
Luggage: Polyester bags are stain- and water-resistant. The bags retain their shape well and can stretch to accommodate more loads.
You can also find polyester fibers used in soft furnishings and upholstery or used to reinforce seat belts and conveyor belts. Lastly, microfiber towels made from polyester are excellent for cleaning glass and other reflective surfaces.
Is Polyester Fabric Right for Embroidery?
The tight weave of polyester makes it an exceptional canvas for various embroidery designs. The dense weave prevents tearing during machine and hand embroidery. Since polyester does not shrink, you don't have to worry about the material warping your embroidery. Also, you can get polyester in various colors to match your specific embroidery project.
Our Favorite Polyester Apparel at Thread Logic
Below are some of our top-selling custom embroidered polyester apparel:
Dry Zone Grid Polo
The Dry Zone Grid Polo by Port Authority is an affordable polo shirt that drapes nicely and feels wonderful on your skin. Despite its affordability, the shirt is durable, thanks to its 100% high-quality polyester fabric. The polyester material also features dry zone technology that ensures optimal moisture-wicking and odor control.
You can get the Dry Zone Grid Polo in over ten colors and sizes ranging from small to 4XL. Male and female variations of the shirt are available for your entire team.
Clique Spin Pique Polo
The Clique Spin Pique Polo is a smart-looking polo shirt that you can get in several attractive colors, including red, ocean blue, teal, and royal purple. The shirt's lightweight polyester material ensures lasting comfort, and you can customize the shirt by embroidering your brand logo and name on the breast.
Posicharge Competitor Tee
Go for the Posicharge Competitor Tee if you want comfortable and customizable t-shirts for your team. The affordable shirt's 100% polyester fabric is moisture-wicking and has a fantastic texture.
The shirt's true-to-size fit and stretchiness ensure long-term comfort and unrestricted movement. We can embroider your brand name on any part of the shirt you desire and provide the Posicharge Competitor Tee in several wonderful colors.
Clique Ice Tee
The Clique Ice Tee is a fitted t-shirt made with 100% polyester mesh. The shirt is comfortable and suitable for various occasions, and variants are available for your male and female team members. Get the Clique Ice Tee in sizes ranging from small to 5XL and cool colors like dark navy, red, and green.
Clique Ice Long Sleeve Tee
If you prefer long-sleeve t-shirts, go for the Clique Ice Long Sleeve Tee. The 100% polyester mesh shirt can serve as a base layer in winter or a regular shirt on warm days. The slim fit of the shirt flatters the wearer's body, and the stretch-resistant fabric will help the shirt retain its shape for several years.
Tall Posicharge Competitor Tee
The Tall Posicharge Competitor Tee is a simple t-shirt that hugs the body in all the right places. The 100% polyester material wicks moisture and ensures breathability, and you can hand or machine wash it. Several exciting colors are available, including maroon, atomic blue, and orange. Pick the one that best fits your brand, and let us embroider it with your logo or other details.
Order for Embroidered Polyester Apparel Today
At Thread Logic, we are the go-to providers of durable and beautiful custom embroidered apparel. We serve customers in various industries, and we have a track record of fulfilling orders on time and perfectly on the first try.
Don't just take our word for it. Check out our verified reviews and experience our five-star services yourself by contacting us to place an order.