Our Favorite Vineyard Vines Vests to Get Your Team Ready for Fall
Vineyard Vines is an American clothing brand that's been around since the late 90s. The brand's top sellers include high-end shirts, swimwear, male and female bags, and shorts. Vineyard Vines also offers vests and sweaters for staying warm in the fall, and these items make excellent team gifts, especially when custom embroidered with your brand name or logo.
Custom embroidered Vineyard Vines vests make great gifts because they are warming, attractive, and valuable. These features increase the likelihood of your team appreciating and using the gift. Gifting your team vests customized with your brand logo also benefits your company by generating free marketing for your business everywhere your employees wear the vest.
Our Top 3 Vineyard Vines Vests
Vineyard Vines vests are excellent for fall because the high-end brand offers quality, comfortable clothing that never goes out of style. Various vest styles are available from the brand, and below are our top three sellers.
Vineyard Vines On-The-Go Shep Vest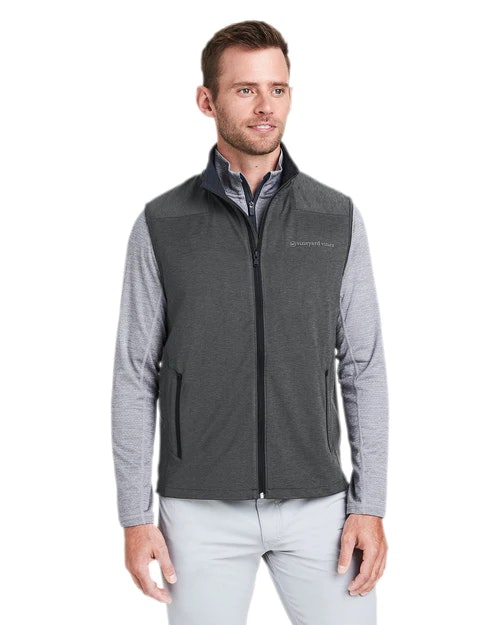 Your team will appreciate your fall vest gift more if it is aesthetically pleasing and functional. The Vineyard Vines On-The-Go Shep Vest checks both boxes with its simple yet stylish design. Your team can pair the vest with various outfits and count on its thick polyester/spandex fabric to shield them against cold winds.
The vest even has a moisture-wicking under layer that prevents excessive sweating if it starts getting warm. Lastly, the vest's stretchy fabric ensures unrestricted movement, and your team will appreciate the side pockets for warming their hands.
Vineyard Vines Harbor Fleece Vest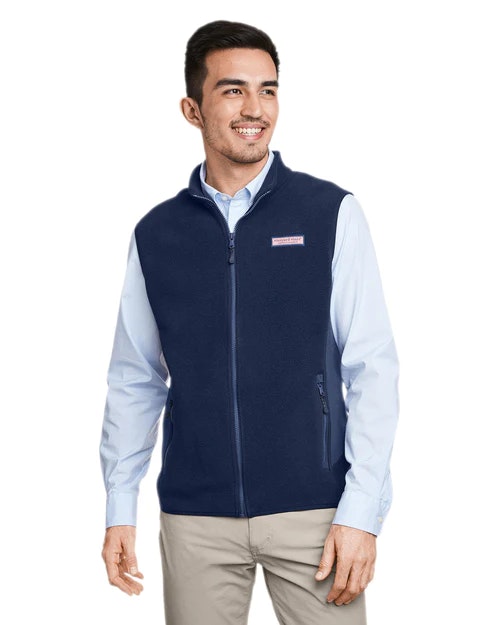 If you have a unisex team, make sure everyone gets a customized Vineyard Vines vest gift this fall by choosing the Vineyard Vines Harbor Fleece Vest. Male and female versions of the vest are available, and you can get them in sizes ranging from small to 2XL.
The soft fleece fabric feels lovely, and the stretch binding at the armholes and hem prevents wear and tear. Also, since the vest is made from recycled fabric, it can boost your brand image as an environmentally conscious company. The vest is available in grey and blue, and you can elevate its aesthetics by embroidering your brand logo on the chest.
Vineyard Vines Mountain Sweater Fleece Vest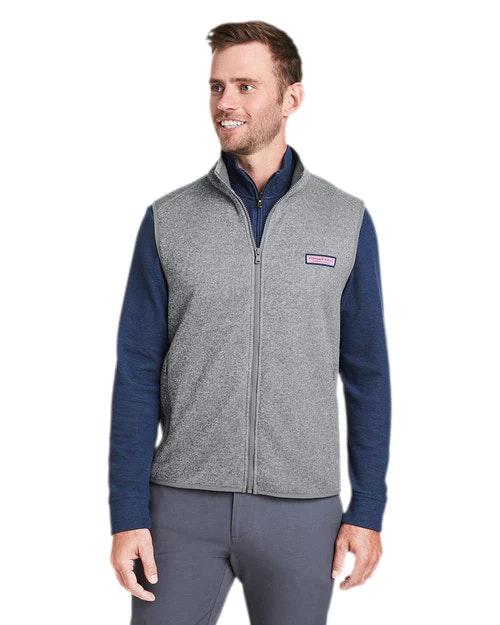 If your team spends a lot of time outdoors during the fall season, gift them the Vineyard Vines Mountain Sweater Fleece Vest. The thickness of the polyester fabric and the micro-fleece interior deliver impressive wind protection. You can fully or partially zip up the vest to achieve your desired level of warmth, and the material is quick-drying to ensure you don't stay wet after getting caught in a drizzle.
The fleece vest has a classic fit that accentuates the body, and male and female versions come in various sizes for all your team members. Lastly, your team can pair the vest with various outfits thanks to its sleek look and impeccable tailoring.
Shop Custom Embroidered Vineyard Vines Vests!
Custom embroidered vests are excellent for staying warm and stylish, making them excellent fall gifts for employees. Such vests also help boost brand visibility and awareness when you customize them with your company logo.
Are you looking for the best place to buy Vineyard Vines vests for your entire team? If so, visit Thread Logic to browse our selection. We have Vineyard Vines vests in various colors and sizes at competitive prices and offer complimentary embroidery services.
Our ordering process is stress-free. Simply browse our store, select vests, upload and confirm your embroidery design, and pay. We'll take care of the rest, including shipping your order to your doorstep. Contact us today to discuss your custom embroidered fall vest needs.